20/20 EyeCare & EyeWear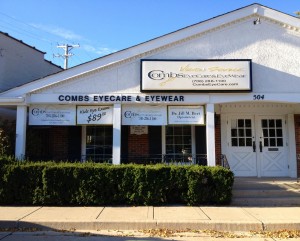 Since 2006, 20/20 EyeCare & EyeWear has been the leader and preferred provider of quality vision care products and personalized optometric services to our patients.
20/20 EyeCare & EyeWear offers comprehensive vision examinations and specialize in the diagnosis and treatment of a wide array of eye diseases, conditions, and problems.
Schedule an appointment with an experienced eye care provider, and give your vision the level of care and attention it deserves.
Dr. Irene D. Combs

An RHA, Retinal Health Assessment to look for and follow Macular Degeneration, Diabetes, and drug induced changes in the retina is offered routinely. Computer analysis of the Optic Nerve with a GDxVCC allows for early detection of optic nerve changes that may occur with Glaucoma or Optic Neuropathy. Visual Field Screening rules out any defect along the visual pathway to the brain, detecting tumors or Glaucoma.


Dr. CJ Sparks

Combs EyeCare & EyeWear is pleased to welcome Doctor Carolyn J. Newcome Sparks to our practice!
Doctor Sparks has been in practice for over 30 years and in the industry for over 35 years.

She has a bachelor's degree in biology from the University of Illinois and graduated from the Illinois College of Optometry in 1981. She specializes in primary care and contact lenses.

Doctor Sparks is a member of the American Optometric Association, the Illinois Optometric Association, the West Suburban Optometric Association, where she has served as secretary-treasurer.

She has been the lead investigator for several contact lens solution studies, and Varilux has featured her in an infomercial for progressive bifocal lenses.

In 2012, La Grange area residents named Doctor Sparks the Suburban Life readers' choice "Favorite Optometrist"! She will be seeing patients Mondays, Wednesdays, Friday, and every other Saturday!

Her hobbies include reading, gardening and all kinds of needle work. She plays euphonium and baritone horn — performing regularly with several local music groups.